北美职通卡重磅SQL集训课程第二季
10月已至,还剩下2个多月就要开始2017年的你,2016年初写下的new year resolutions都实现了吗?如果还没有,那就赶紧抓住2016的小尾巴大干一场吧!
"SQL无处不在,我这样说不是因为我想让你使用SQL。它只是一个事实。我打赌现在你的口袋里就有一些。所有的Android手机和iPhone都能轻松访问叫做SQLite的SQL数据库,你手机上的很多应用直接使用它。它运行着银行、医院、大学、政府、小企业、大企业,几乎每一台电脑和这个星球上的每个人最后都要接触到运行着SQL的东东。SQL是一种极为成功和稳固的技术。"
——腊八粥
继暑期SQL集训课程大获好评后,许多童鞋们来找职牛牛说希望能再开一次SQL集训课程。
这不,北美职通卡团队为帮助同学们迎战秋招,再次开启SQL集训课程,如果上次错过了的小伙伴们,这次可要抓紧时间报名了哦!记住这个时间:EerlyBird截止日期是10月14号~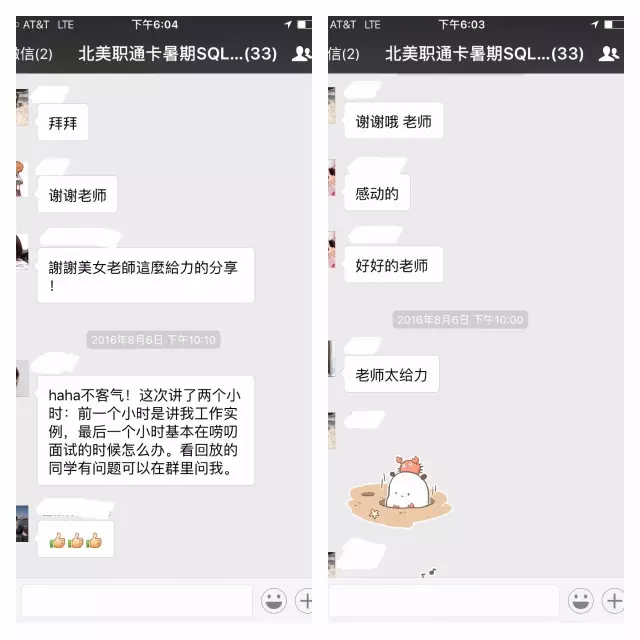 1. 课程从Basic到Advanced, 层次分明,学生选择分明,适合初学者和有基础者;

2. 三位行业经验丰富的导师联合授课,全方位覆盖金融、市场营销和咨询等课程;

3. 不涉及理论,从实践出发,学练结合,应用型强,运用第三方平台和SQLite进行演练;

4. 用实力剖析SQL在金融和市场营销领域中的领域。
在短短九课时的学习后,你将会熟练掌握:
1. 核心SQL语句(statement)及关键词(keyword)
3.  数据的检索(select),筛选(filter),与排序(order)的方法
4.  聚集函数(aggregate function)的使用,分组数据(group by)的技巧
7.  SQL在金融,市场,科技(advanced课程)等实际项目中的使用思路
9.  视图(view), 存储过程(stored procedure),索引(index)的基本知识 (advanced课程)
10. SQL在金融,市场,科技(advanced课程)等实际项目中的使用思路
11. SQL面试题高难度题型的应对技巧 (advanced课程)
网络授程,全程录制,每节课后答疑,布置作业,行业案例分析,附导师精美PPT。
Education: Master in Information Management from Syracuse University
Experience:  Data Analytics, Citi Group
Bobo got her Master in Information Management from Syracuse University. She is currently working at Citi Group as Anti-Money Laundering Compliance Officer with specialty in data analytics. Prior joining Citi Group, Bobo worked at KPMG and New York Community bank. She also has experience in business analyst, system development and project management. Bobo enjoys sharing her experience and insights and helping others to achieve success.
Education: Information Technology at Cornell
Experience: Quality Assurance Associate, KPMG
Xi is graduated from Cornell University majored in Operations Research and Information Technology, with a minor in business. She is currently working as a quality assurance (QA) associate at KPMG focusing on client-facing tax applications. She is extensively using SQL, R, and many other data analytic tools at her work to manipulate customer data, create specific interactive dashboard/report, conduct market research and evaluate applications. She also worked as a peer-adviser for two years at Cornell Career Service Center, and provided mock interviews, resume critiques, and cover letter critiques to assist over 150 students.
---
Education: MBA at Johns Hopkins Carey Business School
Experience: Quantitative Data Analyst at Man Group 
Andy got an MBA degree from Johns Hopkins Carey Business School. During school, he worked as a Sales Data analyst for 180s, the biggest ear warmer company in the U.S. After graduation, Andy worked as a Risk Analyst for PRA Group, the world biggest non-performing debt company for 6 months. Then, he joined Man Group, the biggest public hedge fund in the world in 2014, where he worked as a Quantitative Data Analyst. His daily role include dealing with big financial data, creating financial models and assisting portfolio managers and researcher with models enhancement by using SQL and SAS. Andy has a strong passion for sharing his experience and helping others to gain their career success.
DataCreate/Update/Delete Tables 
Q&A:Prepared with your questions
---
How to manipulate equity/stock data in SQL?
---
1) User/customer activity analysis
Common Interview Questions & Advice from Manager
---
Stored Procedures and more
---
How to use SQL queries to generating complex reports based on different requirements?
---
Common Interview Questions & Advice
Basic Only(Class 1 – Class 6)
Early Bird Package (Ended on Oct 14, 2016):
$360
包含软件安装包,超过30万条数据库,详细的SQL Cheat Sheet, SQL经典教程。
---
Regular Price:
$400
含软件安装包,超过30万条数据库,详细的SQL Cheat Sheet, SQL经典教程。
Advanced Only
(Class 4 – Class 9)
Early Bird Package (Ended on Oct 14, 2016):
$380
包含软件安装包,超过30万条数据库,详细的SQL Cheat Sheet, SQL经典教程。
---
Regular Price:
$420 
含软件安装包,超过30万条数据库,详细的SQL Cheat Sheet, SQL经典教程。
Full Package
(All 9 Classes)
Early Bird Package (Ended on Oct 14, 2016):
$580 
包含软件安装包,超过30万条数据库,详细的SQL Cheat Sheet, SQL经典教程。
---
Regular Price:
$660 
含软件安装包,超过30万条数据库,详细的SQL Cheat Sheet, SQL经典教程。
About Instructor
Cici R
Cici is graduated from Cornell University majored in Operations Research and Information Technology, with a minor in business. She is currently working as a quality assurance (QA) associate at KPMG focusing on client-facing tax applications. During her senior year in university, she worked as the Chief Technology Officer (CTO) at a student running start-up called Student Agencies, Inc., working closely with board of directors
Reviews
Detailed Rating
| | | |
| --- | --- | --- |
| Stars 5 | | 0 |
| Stars 4 | | 0 |
| Stars 3 | | 0 |
| Stars 2 | | 0 |
| Stars 1 | | 0 |